ONE-WAY RIDES AND RENTALS
AUSTRALIA-WIDE
Start and end your motorcycle rental or motorbike tour almost anywhere across major locations in Australia, just let us know your plans if you've got something specific in mind.
For a general guide through the associated costs and one-way fees for starting and ending in different locations see below. If you need any further clarification or have questions in general then just ask!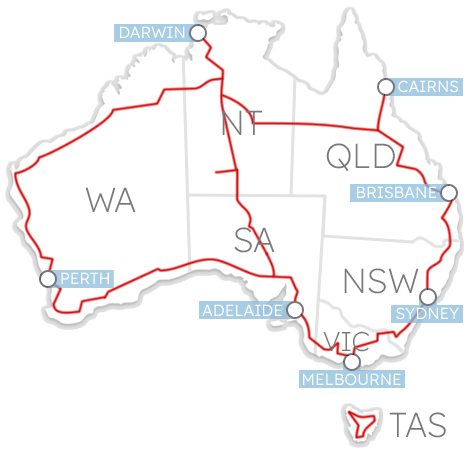 ONE-WAY RIDES AND RENTALS
We get it, sometimes you need to end a ride somewhere other than where you began. No problem at all we can accommodate collections and drop-offs across Australia, within reason, given enough notice of course; but there will always be an associated cost involved with such plans.
Use the pricing table below as a general guide to give you an idea of what sort of additional fees might be involved in making your dream motorcycle ride in Australia come to pass. If you have an specific questions or need to confirm details before booking then just let us know and we'll be happy to help.
ONE WAY RELOCATION COSTS:
PRICING NOTE:
The one-way fees displayed here are for general guidance only and assume a booking made 3 months (90 days) or more in advance of your proposed start date. A BikeRoundOz representative will confirm exact costs based on your individual plans before processing any bookings.