GROUPS AND TOUR OPERATORS
AUSTRALIA
Expert advice from people that have the experience
We've organised tours in every part of Australia
Luggage and support vehicles
Expert trained guides if needed
Intimate knowledge of the best roads and scenery
Side tours, excursions and pre/post tour group trips
Itineraries and pre-trip planning
Internal flights
Airport collection and dropoff
Motorcycles of all shapes and sizes
Quality accommodation, meals and celebratory dinners
MOTORBIKING GROUPS AND MOTORCYCLE TOUR OPERATORS…
If you're organising a motorcycle tour for a group of friends, a club or as as a tour operator then you'll find all the advice, help and organisational services you'll need are available to make planning your Australian tour really easy.
The route you take, the time of year, all the accommodation choices, bike type, side-excursions and logistics before, during and after the tour all make a huge difference to ensuring your group leaves Australia excited and enthused by the experience.
Just ask and we'll tailor the advice and level of service to your specific needs. You might just want the bikes and do the rest yourself or, at the other end of the scale you may prefer a fully inclusive package with all the details planned starting with coach collection at the airport, guiding during your trip and dropping off at the end. 
Coaches, luggage vehicles, tour guides, accommodation bookings, meals and celebration dinners, side excursions, internal flights, detailed route planning and daily scheduling are all a part of your group's tour and we have expertise at providing all these aspects of your trip – just ask! The advice is FREE!
Click here to contact us about your plans for a group tour or group ride. We'll be happy to help you organise a fantastic motorbike trip in Australia!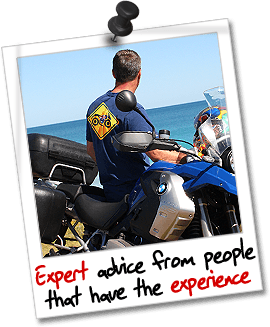 EXPERT ADVICE FROM PEOPLE THAT HAVE THE EXPERIENCE
We've literally ridden around and through Australia many times! We know the best routes, the little things that make each place special and have organised tours in almost every area of this incredible country. You may have four or five friends planning a holiday, or be a tour operator putting together a tour you can promote. Either way you can be assured of a personal, caring and methodical approach to the advice you need and the planning of your tour. Let us know what you are hoping to do and we'll make organising the tour easy and trouble free.
WE'VE ORGANISED TOURS IN EVERY PART OF AUSTRALIA
When you love a country like we do, you leave no stone un-turned when riding out. We don't just "talk the talk" when it comes to Australia, we "walk the walk" as well. Even if the walk is a little bow-legged after spending ages in the saddle. Australia has an incredible amount to offer and we can introduce it all to you.
No state is out of reach, no spot too far, no track too rough and no goal unattainable. Just contact us with what you have in mind, and we'll see what we can do to help.
LUGGAGE AND SUPPORT VEHICLES
Be it a coach or minibus to get you to or from your start point, a truck to carry your luggage from accommodation to accommodation so you can enjoy the days riding unhindered, or a fully equipped expedition level 4X4 for the more remote rides; we'll be able to find something to fit the bill.
EXPERT TRAINED GUIDES IF NEEDED
Take the hassle out of navigating each day, ensure you find the best routes through an area or simply ride with someone who has a wealth of local knowledge and insight, the choice is yours. Our expertly trained, personable and very knowledgeable guides are there to make your ride a richer and more fulfilling experience.
INTIMATE KNOWLEDGE OF THE BEST ROADS AND SCENERY
It's the little extras that will make a big difference to your trip. That little stream in the middle of nowhere where you can all take a swim or paddle on a hot day, the lunch stop cafe that doubles as a mini motorcycle museum, the views across the mountains from your accommodation when the hotel next door has none and the barbeque on the remote beach with perfect white sand and turquoise ocean. Knowing the roads and area you are travelling through intimately makes these things happen and it's what we love to do.
SIDE TOURS, EXCURSIONS AND PRE OR POST TOUR GROUP TRIPS
Australia has a lot of 'must-dos' to offer and we're able to help organise any side excursions during your trip that might take your fancy. We can also arrange for pre or post trip tours and excursions for the whole group. The natural wonder of the Great Barrier Reef, cosmopolitan delights of Sydney and otherworldly qualities of Fraser Island are all within reach, but there are many more options available. Just contact us with what you'd like to experience.
ITINERARIES AND PRE-TRIP PLANNING
Detailed pre-tour planning is essential and makes a huge difference to the happiness and morale of the group once on the road. Choose the obvious routes between cities and you'll be disappointed by the flat, straight, busy roads with little of interest to see. Try riding in the centre or up north in the Australian summer and you'll have a group of very unhappy people!
Getting the distances right each day is crucial to the morale of the group. Too many and everyone is tired and miserable, too few and they'll feel like they're not making the most of their time.
We have a comprehensive range of itineraries available detailing the potential routes, timescales, side excursions and every other useful detail we could think of. We can also help you plan your trip in advance, for nothing other than the warm glowing feeling we get inside from helping someone achieve their ambitions!
INTERNAL FLIGHTS
Big place Australia, huge in fact. For that very reason you might find yourself in need of a connecting flight somewhere along the line, which we can certainly help with. We can get you back from the end of your expedition, arrange flights to the more remote regions of the country, get you a birds eye view of Uluru or even arrange a one way flight. Of course it's much more fun to ride a motorcycle, but sometimes you just need to get somewhere in a hurry.
AIRPORT COLLECTIONS AND DROP OFFS
Meet and greet for a professional start to your group trip. We can arrange to meet you at the airport, transport you to your accommodation and then escort you all to the depot to collect your bikes. Nothing like the personal touch to ensure your trip gets off to a flying start.
MOTORCYCLES IN ALL SHAPES AND SIZES
When it comes to bikes, we hope you don't think we're boasting here, but boy do we have a comprehensive selection! BMWs, Harley Davidsons, Yamahas, Hondas and Suzukis, many different models, engine sizes and equipment levels. I'm pretty sure we've even got a few different colours too. If we don't have exactly what you want immediately to hand, just let us know and we'll see what we can do.
QUALITY ACCOMMODATION, MEALS AND CELEBRATORY DINNERS
Leave accommodation bookings until the last minute, especially at holiday times and you could all be left with poor rooms and high prices or worse, nowhere to stay! Australia only has 20 million people in an area the size of the USA and so many people are surprised at the limited accommodation, especially in the out of the way places that many riders like to see. We've got access to some of the best accommodation Australia has to offer, so can take the hassle out of organising somewhere to stay for your group.
You may want a group self guided tour or a fully guided tour, it may be on tarmac or on some of the more remote gravel roads. Tell us what you are hoping for and we'll come back to you with details. We'll almost always be back to you within 24 hours with detailed information.